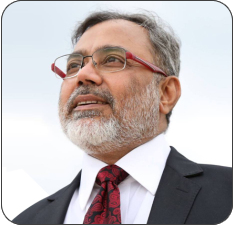 Mr Sunil Khosla is the pioneer of political PR in India, a much respected communication and political strategist with keen eye on electoral and political trends in the South Asian region. He is also the Managing Director of Fourth Estate, one of the oldest and most reputed public relations agencies in India which has provided communication and electoral management services to major political parties. Mr Khosla has also provided strategic consultancies on strategic policy, political and business environment issues to foreign governments, business leaders and multinational companies.
A futuristic trend catcher, he is a firm believer that technology's role in Indian elections will only go viral with the march of digital society and will be good for Indian democracy. He also recently introduced 'RanNeeti', India's first APP-based digital election and campaign management system, which leverages the power of technology to enhance Voter Share by 10 to 15% thereby immensely increasing
In this series, Mr Khosla traces the march of technology in Indian elections and what role technology is going to play in future. He will also throw light on how political parties, individual candidates, election managers can leverage technology to maximize their gains and influence outcomes.
R V S Peri Shastri – who? For most readers, probably the name will not ring a bell. Understandable, because when one thinks of elections and particularly the Chief Election Commissioners of India, the name of T N Seshan comes first in mind. Not much have been talked about others.
But we had another man who brought about certain seminal reforms in our electoral practices which continues to have a bearing and was a man much feared by the government of the day for his uprightness and strictness. The man was R V S Peri Shastri – Sheshan's immediate predecessor, if we ignore the stopgap arrangement in the name of V S Ramadevi, who was CEC for less than 15 days.
Hailing from Andhra Pradesh, the man rose on to become a Secretary to the  Government of India without belonging to the coveted IAS breed before being appointed as the 8th Chief Election Commissioner of India and held the post from 1st January 1986 till his untimely death due to cancer on 25 November 1990. The defining 1989 general elections were held during his tenure.
The introduction of technology in Indian elections happened during the eventful 9th General Elections, when Electronic Voting Machines (EVMs) were used for the first time in select constituencies in 3 states including MP, Rajasthan and Delhi!
Peri Shastri brought about some seminal changes in our elections which continue to have an abiding impact on our electoral system. The lowering of the voting age from 21 yrs to 18 yrs happened during his tenure. The other big milestone was the introduction of technology in Indian elections for the first time in the form of Electronic Voting Machines (EVMs) during the 1989 General Elections. EVMs were used in select 16 assembly constituencies during this 9th Lok Sabha poll in the state of Madhya Pradesh, Rajasthan and Delhi. EVMs have been hailed as one of the biggest electoral reform tool till date which changed the face of Indian elections forever and brought about the much needed transparency in voting.
This introduction of technology has not only mitigated the wide scale and prevalent practices of bogus voting, booth capturing, the demand for dabangs during elections to a very large extent. From then on to now, it's been a long march for technology in elections ……..
More on the role of technology in elections in the next post! Keep reading….Thanks!